Because They're Worth Remembering
September 4, 2016
Direct quote from Beckett, the kid who cried actual tears recently because "mom PLEASE stop dancing in the car. it's very unsafe to dance while operating a vehicle!":
"Since I'm 5 now, can I just be one of the parents?"
He is – by far – the most responsible adult in our home.
He is always reminding me of the rules to ensure a safe and just home.
He is also always soaking up everything around him and asking ridiculously mature and insightful questions.

A few months ago he started asking if he could come to "big church" with us instead of kid's Bible class. (Big church = adult worship + sermon. When the kids at our church hit a certain age, they all end up in "big church", but he's still young enough to qualify for kid's worship.)
Our answer to that question will always be 100% yes.
Does his worship look a little wigglier than the person next to us? Yep. Does he sometimes ask embarrassing questions in loud whispers at quiet times? Uh huh. Does he have to pee at least once during every service? Of course.
But having him in "big church" with us? Watching him soak up the worship, the teaching, and the community? Easy yes.
So he's been coming.
And periodically throughout the service we lean our heads together and discuss what's going on. And why.
At the end of nearly every service, there is a baptism. Usually multiple. (99% of which are people we don't know, one downside to a several-thousand-member church.)
We've talked about baptism and what it means, but we usually spend most of our time on things like "What does that communion cracker taste like? (Cardboard.) Can I just try it? (No.)" and "How come no one ever puts money in that bucket thing? (A little thing called 'direct deposit'. Virtual money, amiright??)."
Baptism isn't that big of a discussion point yet, which is why it caught me off guard a few days ago when Beckett randomly started talking about it in the car on the way to the library.
"Hey, Mom….I've been doing some thinking…"
*bracing myself for yet another conversation about why we will not be buying a Komodo dragon*
"…and I would really like to take pictures at church when people get baptized."
Wait. What?
I thought it was kind of a random thought (and shocking, as it wasn't related to reptiles or the animal kingdom), so I asked why.
"Well because sometimes I forget things, you know? And I just don't want to ever forget those people. They are choosing to follow Jesus and I'm really excited for them and I just don't want to forget that. I need to start taking a picture — no…a video! — of each person. So I can remember.
Do you think that would be okay, Mom?"
To which I replied, "……………….." because I had driven off the road and was in the fetal position sobbing hysterically into my shirtsleeve.
(Just kidding. I waited to do that until I called my husband later to retell the whole story.)
I told Beckett of COURSE that was okay. No — much better than okay. It was the single most Jesus-like thought I'd ever heard.
We talked about his idea a few more times throughout the weekend (his initiation) leading up to this morning.
And then, this morning. Ohhh mercy. This. morning.
First off, Beckett brought his own digital camera to church.
And then he sat through the whole service saying, "Is it 'baptist' time yet? Are the baptisms coming soon??"
And when "baptist time" finally came, he ran down the aisle to do this: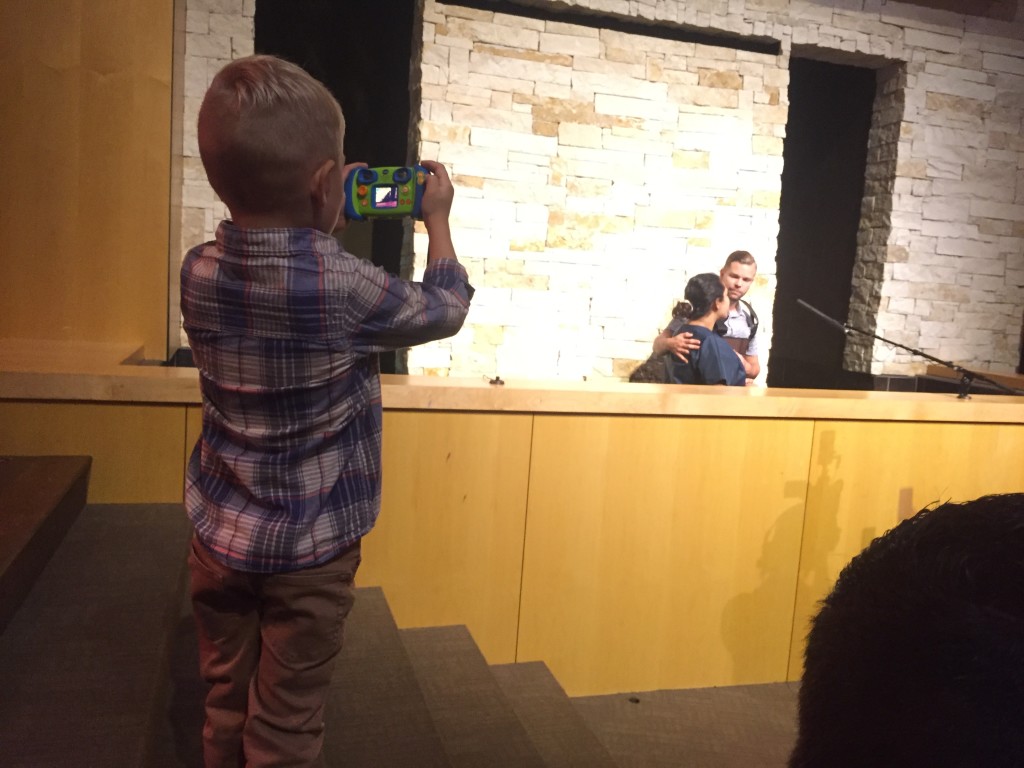 (Honestly, you guys, I'm hyperventilating a little bit at this picture.)
Are you kidding me, sweet child of mine.
While the rest of the world loses their minds over our differences – our skin colors, our political views, our sexuality – I'm sticking with this guy. He sees none of that. All he sees is someone worth remembering and celebrating for making the single most important decision of their life.
As great as I think he is, his unadulterated, pure heart points to an infinitely greater person.
Thank you, Jesus, for showing us glimpses of heaven through our children.
And Happy Jesus Birthday, Amy. Team Brooks is celebrating with you!
But Jesus said, "Let the children come to me. Don't stop them! For the Kingdom of Heaven belongs to those who are like these children."