Look Past the Clearance Jesus
June 12, 2017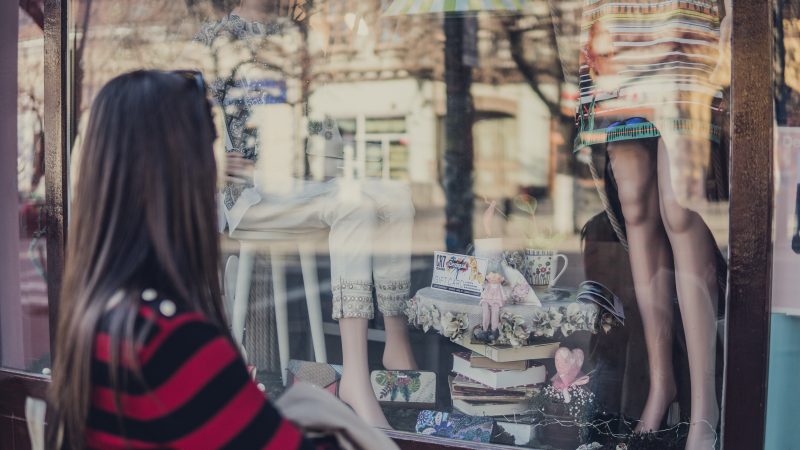 If you were to Google stock photos of Good Christian Teenagers, my high school yearbook picture would show up. I was the World's Best.
Someone needs a volunteer for the mission trip? Camp? Retreat? Bible study? Prayer team? Small group? Sign me up.
There's a new ministry? It's called Ignite? Elevate? Revolution? Engage? Impact? I'll be there.
I grew up in a church culture unlike my parents'.
My parents' generation was all about the do-do-do. They had to do enough to be saved (or not do enough to stay saved). They studied the Bible to keep all the rules.
My generation, on the other hand, swung whole-heartedly to the it's-been-done, come-as-you-are culture. The rules weren't important, so we didn't study the Bible.
And – first off – is there not some middle ground here?
Secondly, can you really swing too much in the direction of grace? No.
H o w e v e r . (And this is a big however.)
The grace I knew and learned was cheap. It didn't cost me anything.
To clarify, grace really is free. To anyone, any time. That's the scandal of the Christian faith.
But our response to grace is not.
Following Jesus is quite costly.
True discipleship costs us our pride. And reputation. And control. And security. And comfort.
All of which I hadn't given up and didn't realize until I got to college.
Combine the newfound freedom of adulthood, the different religions and worldviews I was encountering, an alarm that didn't set itself on Sundays, and…well…my comfortably shallow faith didn't hold up well. Like a $2 umbrella in a monsoon.
I was flipped inside out and sideways, unable to right myself. I didn't know how to bend the spokes of my foundation back into position; it felt permanently distorted.
What I did know was that my "Jesus is my buddy" meme-like faith wasn't cutting it anymore.
I eventually walked away, too overwhelmed and unmotivated to figure it out.
By the time I graduated, I was in a rough place spiritually and I. didn't. care.
Apathy is such an effective tool for Satan. He throws meaningless periphery at us until we become passionate in the distractions, providing the cover he needs to sneak in and steal our m
otivation to fight for what really matters.
This was me. Far more passionate about finding the perfect apartment than rebuilding my own foundation.
Also me, though, was a new bride moving to her husband's hometown.
So – as all Good Southern People do – I started going back to church. I didn't want to; I wanted to save face.
And yet.
Slowly, week after week, I began to see Jesus clearly. Feel his presence tangibly.
I saw him in people whose lives were different because of their faith. People who were refreshingly weird.
People whose authentic imperfection revealed an identity in something bigger than themselves.
People who asked hard questions. Who loved me both as I was and enough not to leave me there.
People who spoke and loved and spent and grieved and hoped differently because of Jesus.
The thing is, I heard about Jesus my whole life. I liked what he offered, too. Free grace! I'm all about a good bargain.
But unlike a bargain sweater, bargain faith sucks. It doesn't satisfy. (And do we want it too, really? Do we want to devote our lives to a small, off-brand God?)
No, the freedom and hope and newness that Christ offers comes only when grace takes root.
When the cross becomes less like a charm on a necklace, more like the sacrifice we pattern our lives after.
If I could go back and tell myself – or anyone in that season – anything, I would say:
KEEP LOOKING.

Look for the real Jesus.
Not the nice one who gives us nice, big, holy goosebumps once a week; the powerful one who defeated death. The one who was brutally tortured and murdered for you and for me. The one whose sacrifice demands a response.
It is this Jesus that I have chosen to follow, and it was the crumbling of my faith that led me to him.
It wasn't until I let go of his cheap substitute – the one that allowed me to be me, wholly unscathed and comfortably selfish – that I began to see what true, redemptive, transformative, gospel
power was.
(And I can assure you: transformed me is WAY more charming than regular me. Regular me is insufferable.)
If you are done with the cultish fluffiness of church, same.
If you are done with Christian hypocrisy, same.
You can be done with those, but don't be done with Jesus. (Funny how the two don't always go hand in hand.)
Don't stop looking for him. He's there. Working in and through people all around you.
And he has never stopped looking for you.
---
---
GIVEAWAY ALERT:
If you want to win a free copy of Andrea's book (which everyone should), leave a comment below – or on the Facebook or Instagram posts linking here – to be entered into the drawing. Answer the question, "What would you go back and say to your younger self?" The winner will be announce on June 15th!

Update: a winner has been chosen and her book is in the mail…..but yours totally can be, too. Just go to Amazon.com and buy that sucker. (You're welcome in advance.)

Thank you for sharing all of your own stories and advice!