Survival of the Summertime
July 17, 2016
I see you, mom bloggers with 5 kids and enough time to not only create homemade sensory bins but to post a how-to that same afternoon. I see you.
And I'm wondering where the heck your kids are while you're blogging, because they certainly aren't in the room with you.
The hungriest my kids ever get is when I sit down at my computer and start typing. Or when I pick up the phone to actually talk to another reasonable human. It's like instant starvation when my attention is diverted from their angel faces. Either that or all-out war with each other. They're kind of the worst.
(Especially the toddler. Did you see the post about how often he yells the word "penis" in public? Because that's still going strong.)
This summer has been an epic survival experiment.

3 boys, 4 and under. No schedule. Summertime energy. Speedy 10 month old. Mischievous toddler. Bored preschooler. Spotty Netflix connection. Water ban due to ruptured ear drum (cool story for another time).
It's insanity of the best kind.
In fact, I documented one day this week. Maybe you can relate.
Daily Summer Schedule:
6:45AM – Toddler's first breakfast. Sprinkles.
7:45AM – Toddler asks me to make "Sarah hair". He means this: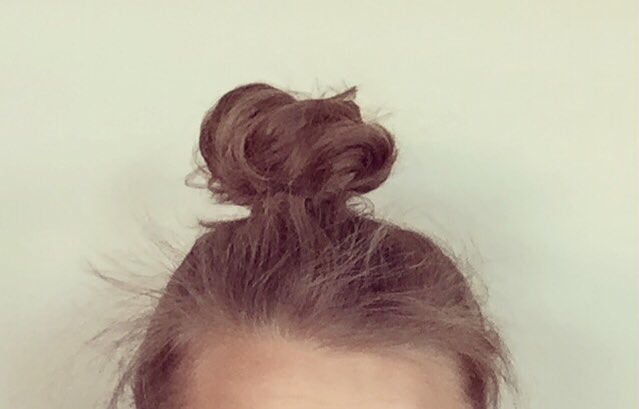 (Another casualty of summer besides brain cells: hygiene.)
8:30AM – Toddler gets naked from the bottom down and hides in the closet.
9:00AM – Bathroom door left open; infant unrolls toilet paper.
9:30AM – Toddler takes bath in toilet.
10:00AM – Get everyone dressed for the day.
10:15AM – Toddler gets wet (?). And naked. Again.
1:00PM – Preschooler accidentally falls asleep (because "I'm not tired, it's just that sometimes when I pretend I am tired I actually fall asleep"). Use SnapChat filters on sleeping child.
2:45PM – Toddler tries to buckle himself in the car. Then asks for help. Then cries when he receives help because he wants to buckle himself with no help.
3:00PM – Grocery store run. Toddler is shirtless (?).
3:20PM – Impulse buy after toddler "tests out" the sticker portion of an unpurchased product.
4:00PM – Doctor the world's most durable and well-loved plant with its third bandaid. Give thanks for the plant's life after being potted and repotted and snapped in half at least 8 times since the end of school in May.
4:05PM – Plant succumbs to its injuries. Funeral for world's most almost-durable and well-loved plant that miraculously stayed alive since May.
5:00PM – SnapChat husband about impending death if he does not return home quickly.
6:45PM – Sibling bath. Install ear plugs (for ruptured ear drum). Lose earplugs. Find earplugs. Repeatedly state, "Ear plugs are not chewing gum."
7:30PM – Bedtime. Sweet, heavenly silence.
7:33-8:12PM – Idle threats and/or bribery to make tiny humans lay in designated sleeping areas. Google plausibly of installing Benadryl misters along their ceiling.
9:15PM – Visit sleeping children. Experience a longing – despite all odds – to see their faces one more time.
Aaaaand repeat. Every day of summer.
Different variations of snack contraband, different injuries requiring bandaids (some plant, some human), but always ALWAYS with the naked toddler. And the toilet-paper obsessed baby. And the SnapChat filters. And the purchase of something we've ruined in the process of grocery shopping.
I feel like tiny humans need one of those warning labels stuck to them.
"Do not operate if you have any of the following conditions: heart disease, neck, back, or spine ailments, high blood pressure, or are under the influence of drugs or alcohol."
Maybe I'll write my congressman to make that happen.
In the meantime: godspeed, fellow summer parenters.
We've got this.
(I think. Probably. At the very least, we'll know soon enough if we don't.)