Mack "Attack" Brooks
June 29, 2015
Taylor and I almost share a birthday. We are off by 2 days, which means the day between our birthdays is prime time to celebrate. And in the summer of 2007, we celebrated by getting a dog together.
This might seem like a normal idea but a) we weren't married, b) we had 2 years of college left, and c) I was moving with friends into a rent house that didn't allow dogs. (Yet we had 3. Sorry again, landlord Ann. The angry handwritten letters you left in our mailbox really did make us feel bad for being such horrible renters…)
Getting a dog at that point in our lives was a horrible idea. Terrible.
Yet we did it anyway because YOLO.
So in the summer of 2007, we went on the hunt for lab puppies. The first stop we made was at the pound. They had lab puppies….with the mange. I lobbied for them, because why not nurse a near-death puppy back to health while trying to get a college education? My dad talked me out of it.
Stop 2 was at a pet rescue center. They did not have any puppies (mangey or otherwise), but on our way back out the door, my mom stopped in front of the kennel of a full-grown male lab mix. While all the other dogs were going insane, barking and jumping against the kennel doors, this dude was sitting calmly just watching us.
Her: Look at this guy! He's 1 year old and knows commands.
Me: He's huge. And his name is Marvelous. No thanks.
Her: So what. He is potty trained and can sit on command.
Me: Marvelous. Marv-e-lous.
Her: Just take him into that room and play with him. See if you like him.
Well, we did like him.
We adopted him right then and there.
(And changed his name to Mack because Marvelous, really??)
We knew right away that Mack had some…shall we say…."issues".
Namely, he was a scaredy dog. He was scared of things like water, vacuums, balloons, stovetop vents, plastic bags, hairbrushes, thunderstorms, people, hats, slight gusts of wind, and unicorns.
He was a 75 pound lab scared of life in general.
But oh my mercy was he a good dog.
He ended up being the perfect roommate in college; one who shared in my heart-deep appreciation for costumes.
He was also our first child. Out of wedlock.
He was there when Taylor proposed and when we moved into our first home as newlyweds.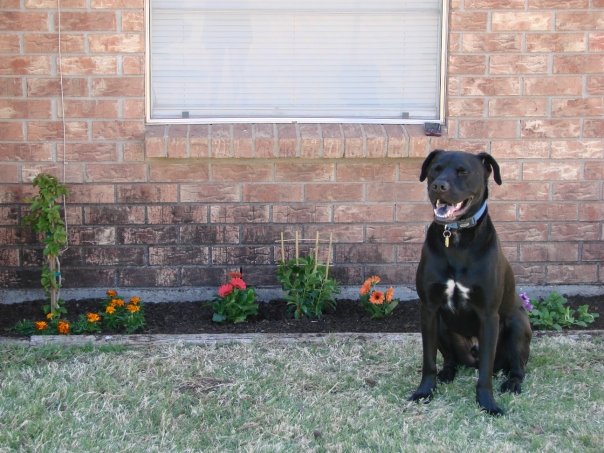 There when we prepared for our first human baby.
And there when we brought that baby home.
He was even supportive when we introduced our baby to costumes.
Although he took a backseat in my camera roll once human babies came along, he was always nearby.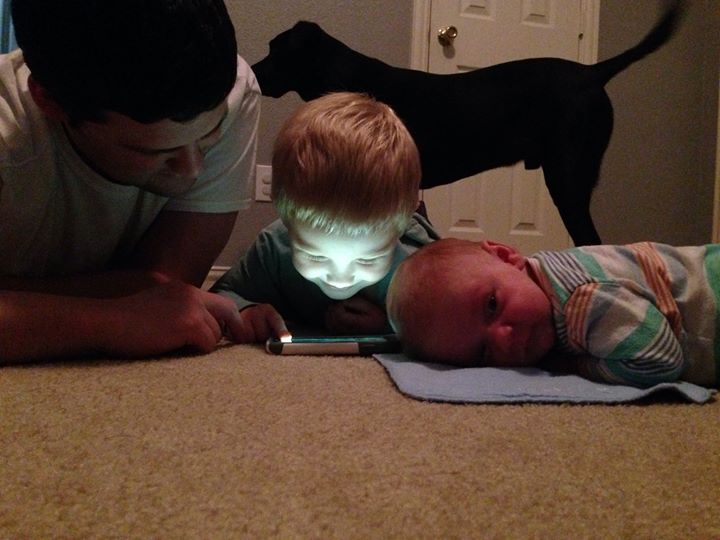 Sometime in 2012, when our first was still a baby, Mack's anxiety got out. of. control.
(I still blame it on the Jehovah's Witnesses who put me on some sort of NEEDS TO BE WORN DOWN list. Turns out strangers hanging around the porch and knocking on the door every other day for 2 months straight makes an anxious dog, well, more anxious.)
Whatever set him off, his separation anxiety got out of control.
He destroyed 2 couches, 3 bedding sets, 2 dog beds, a metal crate, and countless pillows within the span of a few months. When we left the house, we never knew what mess we'd come home to.
We tried everything. ThunderShirts, Prozac, routines, etc. None of it really helped and, honestly, with a 2 year old and a refluxy infant, we didn't have the time or energy or devote to fixing his issues.
One day I even posted on Facebook asking if someone with land and other dogs would take him…
…and then I bawled because it was Mack. Our Mack. As weird and anxious as he was, he was our weirdo freak.
(Plus, from an economical standpoint, we'd invested lots of money in him – what with the LASER THERAPY TREATMENTS he received that time I accidentally chopped off the end of his tail.)
(He didn't find that situation as comical as I did, even after I apologized profusely. Tough crowd.)
Saying Goodbye
Last Monday, we took Mack in to the vet for a sore on his foot. It was between the pads of his paw and obviously bothering him. He licked it incessantly.
And because he's Mack and doesn't do anything halfway, we got the news back pretty quickly that it wasn't a foreign body that had gotten stuck and infected (like we originally thought), it was an incredibly aggressive mass cell tumor located in an inoperable location. That dog is nothing if not dramatic.
After talking with the vet and hearing our single option – which was "wait until his quality of life gets worse (within months) and put him in a cone* 24/7 until then" – we chose to put him down sooner than later. Like, on Wednesday. 2 days after the first visit. (*cone = another source of terror for Mack)
At first, it seemed like kind of a relief. He had gotten so anxious when he was left alone the past few years and our current stage of life just doesn't cater to that well. We were always worried about what would flip him out next – and surely adding another tiny human in less than 2 months would not help.
Plus, we got to say goodbye on our own terms, it was quick, and we never had to see him suffer.
Still.
It was really sad. Really, really sad.
How do you say goodbye to a dog like Mack?
He was the quiet presence in our home. The one who'd come sit calmly by my side when the boys were being insane. He was my consoler during early day newlywed fights, Taylor's wrestling partner before the boys came along, Beckett's cane as he learned to walk, and Hutton's reflux cleaner upper. He was as loyal and loving as they come.
He was also the world's weirdest, most impossible-to-photograph-in-good-lighting dog.
Saying "thanks" didn't seem like enough. It didn't begin to cover the joy (and insanity) he brought to our lives the past 8 years, but it had to suffice.
So, yeah.
Tough week for Team Brooks.
We miss you and your quirky goodness, Mack-Attack.